John E. Dunn Photographs, Mss 361
Dublin Core
Title
John E. Dunn Photographs, Mss 361
Description
This collection consists of photographic prints and negatives of Missoula and other western Montana locations from 1900 through 1919. These images capture the Dunn family and friends; Missoula homes, businesses, and neighborhoods; as well as a few images of western Montana landscapes and towns. Materials in this collection provide detailed reference evidence for comparative examinations of western Montana domestic lifestyles, community recreation activities, architectural styles and infrastructure patterns.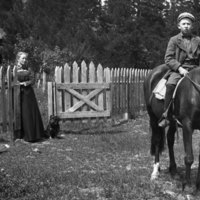 A boy sits on a horse and a woman stands at a gate on Williams Ranch at the end of Rattlesnake Road, Missoula, Montana.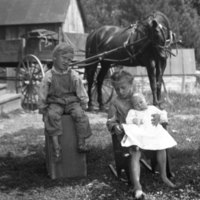 Three children sit near the porch of a building. One child sits on a wooden box, another child sits in a rocking chair and holds an infant. A horse and wagon are in the background.
Social Bookmarking