Joesph M. Dixon Papers, Mss 055
Dublin Core
Title
Joesph M. Dixon Papers, Mss 055
Description
Joseph M. Dixon was governor of Montana (1921-1925) and served in the U.S. House of Representatives (1903-1907), the U.S. Senate (1907-1913), and in the Department of the Interior; he was also a national leader in the Republican and Bull Moose Parties. This collection contains a large portion of his personal and professional correspondence files, legal documents, financial records, campaign/political materials, photographs, and personal effects.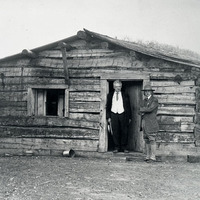 Worden and Company Store, Hellgate, Montana, built in 1860. C. P. Higgins and F. L. Worden, builders and owner, left to right, Judge F. H. Woody, first clerk and first postmaster, Missoula, Montana, and Colonel E. S. Paxson, famous Montana artist.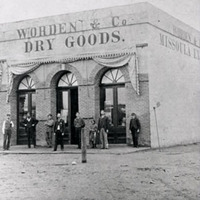 Worden and Company Store, Missoula, Montana. Identification on image reads: Left to Right - William Pulliam, A. G. Swaney, Frank, Lowe, Cleveland Lathrop, Ben Brown, Jesse (?), Fred Stoddard, Henry Worden.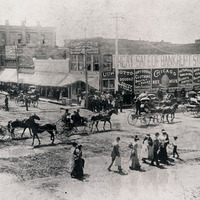 Corner of Higgins Street and Main Street, Missoula, Montana. Horse-drawn buggies in street, men and women crossing street.
Social Bookmarking