William A. Hoblitzell Photographs, Mss 489
Dublin Core
Title
William A. Hoblitzell Photographs, Mss 489
Description
The collection contains photographs in an album and loose photographs. All are printing-out paper prints, and most are mounted on Kodak mounts. The album photographs appear to have been arranged and labeled by Hoblitzell and show mostly scenes of Missoula, Montana. Significant subjects include buildings (downtown and residential neighborhoods), railroad transportation (mostly Northern Pacific rolling stock), Fort Missoula soldiers, Native Americans, construction, fires, bicyclists, significant floods on the Clark Fork River and damage to the railway, and lumber mills in and around Missoula.

There are also a few photographs taken from the train that Hoblitzell rode from Maryland to Missoula.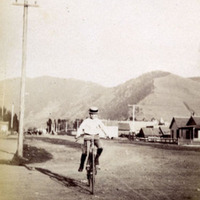 Carl H. on bicycle, Missoula, Montana. Hellgate Canyon and Mount Sentinel in the background.
Mrs. Crain on a bicycle, Missoula, Montana.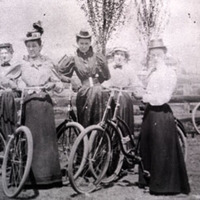 A group of five women with bicycles, Missoula, Montana.
Social Bookmarking