Stan Healy Photographs, Mss 430
Dublin Core
Title
Stan Healy Photographs, Mss 430
Description
Healy's photographs document Missoula, Montana, mostly in the 1940s through the 1970s. As a news photographer, he tended to document local news events, including automobile and railroad accidents, fires, and other tragedies. He also photographed changes in Missoula's built environment, including building construction and demolition and street work. Other favored subjects are parades, law enforcement, fire protection personnel, and the University of Montana. Several sweeping views and aerials of Missoula document the change and growth of the city.

The photographs document much more than Missoula. Surrounding western Montana towns, including Bonner and Taft, are documented in the collection. There are a considerable number of images of Northern Pacific Railway and Chicago, Milwaukee & Pacific engines.

The collection contains a number of images taken by other photographers. Some predate Healy and may have come from the Missoulian photo morgue or from the studio of Frank Ingalls. Others are from his fellow Missoulian photographer John Forssen and from C.F. Buls, A. Baker, and H. English (Wallace, Idaho).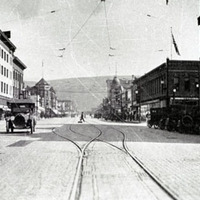 Higgins Avenue looking north from Higgins Bridge.
Social Bookmarking