Kenneth D. Swan Photographs and Audio Tapes, Mss 345
Dublin Core
Title
Kenneth D. Swan Photographs and Audio Tapes, Mss 345
Description
K. D. Swan was the first photographer for the U.S. Forest Service's Northern Region Headquarters in Missoula, Montana. This collection represents his non-professional interests in outdoor recreation and travel and does not contain many official Forest Service images. It contains images of outdoor and town scenes in and around Missoula and other Montana communities, as well as images from some national forests, national parks, and states surrounding Montana. There are also many images of the southwestern United States, New England, and the Canadian Rockies. Audio tapes that he recorded to accompany slide lectures identify images and demonstrate his intent in producing them.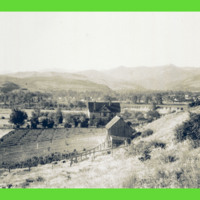 Missoula, view up Rattlesnake from Mount Sentinel, Prescott home in foreground. Missoula, Montana.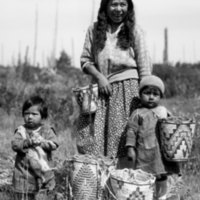 Yakima Indians, Columbia National Forest. Woman stands with two children. Several baskets are in the picture. One child holds a cat.
Helen and Joe Swan (children) at 1533 Jackson, Missoula.
Social Bookmarking