Beta Delta Chapter of Sigma Chi Scrapbook , Mss 636
Dublin Core
Title
Beta Delta Chapter of Sigma Chi Scrapbook , Mss 636
Description
This scrapbook contains the history of the fraternity and The University of Montana from 1895-1922.
The first social fraternity, Eta Phi Mu, was organized at The University of Montana, Missoula Montana on January 26, 1904. The fraternity became the Beta Delta chapter of Sigma Chi in 1906, due in large part to the efforts of F.C. Scheuch, one of the first university professors who later became acting president.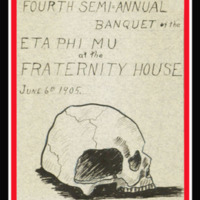 Program for banquette.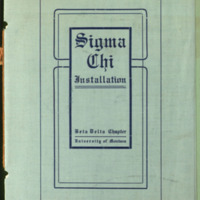 Program for installation ceremony of the Beta Delta Chapter of Sigma Chi at The University of Montana-Missoula.
Social Bookmarking