Fred E. Buck Scrapbook, Mss 657
Dublin Core
Title
Fred E. Buck Scrapbook, Mss 657
Description
Fred Elliott Buck of Stevensville, Montana, entered the preparatory department of the University of Montana in Missoula, Montana in 1898 and graduated from the university in 1906 with a B.S. in Engineering. In 1907 he was a surveyor with the commission classifying lands on the Flathead Indian Reservation in Montana. In 1910 he was appointed city engineer of Missoula, Montana and served for a number of years. In the 1920s Buck was the state irrigation system engineer. At his 50th reunion in 1956 Buck presented a scrapbook which was accepted on behalf of the university by Carl McFarland, university president.

This scrapbook includes materials from the beginning of Fred E. Buck's college education at the University of Montana in Missoula, Montana in 1898 through his career up to 1928. The college materials include sports, music, debate, and dramatic recital programs, calling cards, and news clippings. The materials also include papers related to Buck's membership in the Beta Delta Chapter of Sigma Chi and in the Associated Engineers. After graduation, Buck's scrapbook included invitations, calling cards, records of his participation in Alumni Association and in the Masonic Temple, his ongoing membership in Associated Engineers, and news clippings about his engineering career and about the history of the Missoula, Montana and the surrounding region.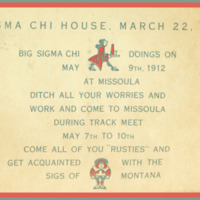 Invitation to Sigma Chi house during Interscholastic meet at The University of Montana-Missoula.
Social Bookmarking