Frank M. Ingalls Photographs, Mss 498
Dublin Core
Title
Frank M. Ingalls Photographs, Mss 498
Description
The majority of the Ingalls photographs are studio portraits of Missoula residents in the 1890s and 1900s. The vast majority are unidentified, but include portraits of families, children, men, women, soldiers, African-Americans, and Chinese. Many appear to have been taken for major life occasions like christenings, First Communion, graduations, and weddings. A portion of identified portraits are of both prominent and less-known Missoula residents. Non-portraits in the collection are mostly of Missoula's built environment, particularly downtown, immediately south of the Clark Fork River, and churches.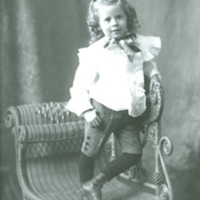 Studio photo of unknown child posed on ornate whicker lounge chair.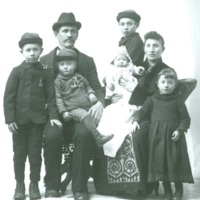 Studio photograph of unknown family.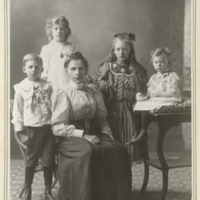 Studio photograph of Mrs. Annie Snedmeyer with her four children, Annie Mary, Harry P., Mary Emma Louise, and Emma Louise.
Social Bookmarking