Joseph H. Sherburne Family Papers, Mss 638
Dublin Core
Title
Joseph H. Sherburne Family Papers, Mss 638
Description
This collection is divided into two series. Series I, Visual Materials, includes glass plate negatives, photographs, scrapbooks, 16mm film and 8mm film. The subjects of the glass plate negative images include Sherburne family activities on the ranch, in Glacier and Yellowstone Parks, and in Minnesota, Montana scenery, Cut Bank Boarding School, Blackfeet Indians, and Osage Indians. The subjects of the photographs begin with the Sherburne's life at the Ponca Agency in Oklahoma Territory and document later family leisure and work actitivities in Montana. The scrapbook photograph subjects include Minnesota school activities; Cut Bank Boarding school; Lake Sherburne, Montana winter, Babb and Browning, Montana; and the U.S.R.S.(probably United States Reclamation Service) crew building the St. Mary's and Kennedy Creek bridges. There may be some duplication between the numbered glass plates, the unnumbered photographs, and the scrapbook photographs. The 16mm and 8mm film reel subjects include vacation and leisure in Minnesota, Michigan, Boston, Plymouth, and Montana as well as a family wedding, birthdays, and other gatherings. The film also records some Native American life.

Series II includes a wide variety of family papers from property deeds to genealogy, reminiscences, and clippings.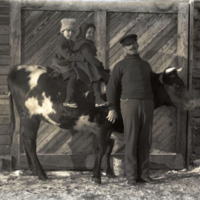 Two children, Agnes and Theo, sit on a heifer in front of the door to what is probably a barn. A man stands in front of the cow. Glacier National Park, Montana.
Social Bookmarking