Browse Exhibits (1 total)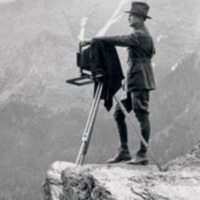 R.H. McKay: Western Montana Photographer illustrates McKay's career through a selection of his images housed in the Mansfield Library's Archives & Special Collections. These images are drawn from the Rollin H. McKay Photograph Collection (Mss 249); an online guide to the Library's entire McKay collection is available here.
Rollin H. McKay, a prominent Missoula commercial photographer from about 1911 through the 1940s, created an impressive catalog of images of Missoula and western Montana's places, landscapes, people and lifestyles. Not only was he a prolific photographer, McKay was also a master of his craft. He was able to shoot action scenes (such as "A Bucker") using very large, awkward equipment, especially by today's standards. He also documented much of the Missoula, Mission, Flathead and Bitterroot Valleys from the air and on the ground. In doing so, he captured the geographic landscape, architecture, and people of western Montana.
This exhibit was originally created by Mark Fritch, Archives Photo Specialist. All materials are from Archives and Special Collections, Maureen and Mike Mansfield Library, University of Montana-Missoula. Comments and questions regarding the exhibit can be sent to library.archives@umontana.edu